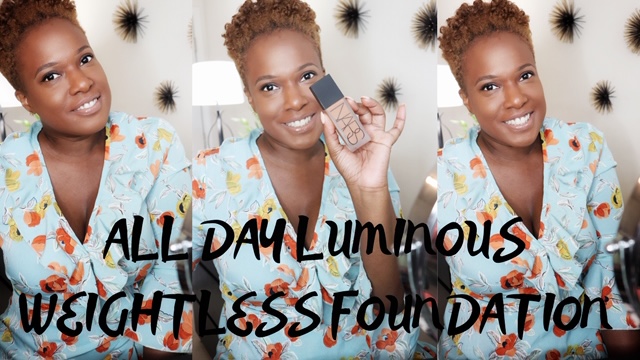 NARS ALL DAY Luminous Foundation. So this isn't a new foundation but I really wanted to try it because I prefer a matte and or semi-matte foundation. I have tried NARS foundation before but never really had any luck. Maybe I'm selecting the wrong shade.
NARS ALL DAY Luminous DETAILS
Well, let get into this foundation. As per the NARS website, there are a lot of claims. but let start with some of the details of the weightless foundation. DETAILS: Oil-free, For all skin types and tones, Full coverage Luminous matte finish; 16-hour wear, Paraben-free, Alcohol-free, Fragrance-free, Humidity-resistant, Sweat-resistant & dermatologist tested.
All of those details sound really good, let us get into the claims.
As per NARS, This uniquely fluid foundation delivers full coverage with unexpectedly weightless, 16-hour wear—all with just one drop. Highly pigmented and perfectly balanced, this breakthrough formula builds and blends effortlessly
The result of exclusive innovation uniquely designed to deliver long-wearing full coverage, weightlessly. Shake, pump and blend in sections for complete coverage.
I honestly believe I have selected the wrong shade and maybe, later on, I will go to Sephora and color match myself the right way. I really like a good foundation and I have a few simple steps I follow as per my Makeup for Beginner: 101.
Let me know if you tried this foundation and if you did what are your thoughts?
Thank you and see you in the comments.
Keli B.